Mara Triangle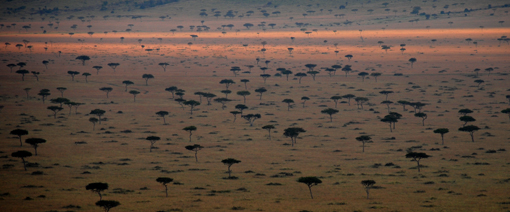 The Mara Triangle forms the western part of the Masai Mara Reserve. Running from the Mara River up to the Siria Escarpment, the Triangle covers 51,000 hectares of tree-spotted plains, riverine habitat and forested escarpment. The Triangle is managed by the Mara Conservancy, a non-profit organization that works to ensure sustainable tourism, fair fee distribution, and effective conservation of the region.

The Mara Conservancy maintains a number of conservation efforts geared towards land and wildlife protection. With concerns of overcrowding and harrassment in the Mara, the conservancy maintains strict game viewing policies. Off road driving is restricted in river and high use zones, and main roads are well maintained. No more than five cars are allowed at a sighting, at a distance of 25 metres. The conservancy employs a system to reward guides who follow the rules.
There are a number of public campsites in the Triangle, but few lodges. The largest of these is Mara Serena. Little Governors' Camp lies on the Triangle side of the Mara River. Kichwa Tembo and Bataleur Camp use the Triangle for game drives, but are located outside of the Oloololo Gate in a private concession.

The Triangle has a healthy number of lions, with the Kichwa Pride being the most well known. Most game drives are focused in the northern part of the Triangle - lions residing further towards the Tanzanian border are shy and elusive.
Estimates from Stephanie Dloniak's report in 2005 estimate there to be 60 adults within the Mara Triangle, divided into four prides.

The Mara Predator Project is working with Kichwa Tembo to catalogue the lions in the Triangle. Marcus Westberg has also contributed a large number of photographs for profiling.
For more information on the Mara Triangle, visit the website.